Blog
Brushed Tapware Options to Take Your Bathroom Renovation From Good to Glorious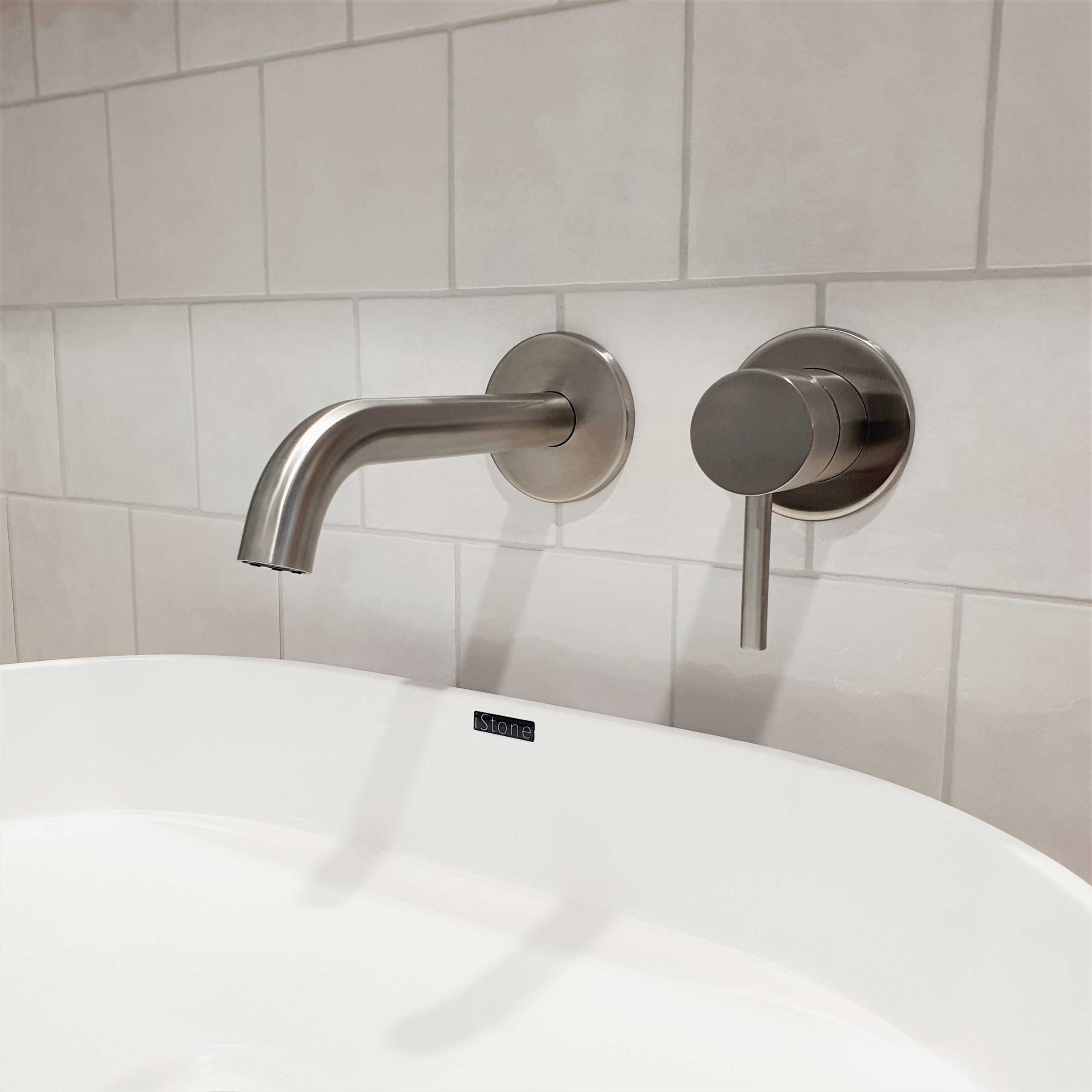 If you walked into a plumbing store 10 years ago, the range available would have been in stark contrast to today. Bathroom renovators rejoice, as tapware manufacturers have really put their nose to the grindstone in terms of engineering contemporary styles. It's like someone 'turned on the tap' so to speak for the options of colour, as the wealth of product available is now substantial.
Chrome tapware has always been a classic choice. Chrome provides the security of an ageless finish which will look good in years to come, provided it's cared for properly.
Bathroom renovators want more though, as at times an ensuite or bathroom calls for something a little different. When a bathroom renovation is planned, we must think of all the fittings, paint colours, tiles and lighting presenting in unison.
Tapware suppliers have their own ideas of which colours to offer the renovation and new build crowd. And while the mix of what is available may vary, the general idea is the same handful of colours across the board so that you can match your tapware to your heated towel rail, and then to your accessories (for example).
The main colours available are;
Chrome
Brushed Stainless
Gunmetal
Black
Brushed Gold or Brushed Brass
Copper or Brushed Copper
Aged Iron
White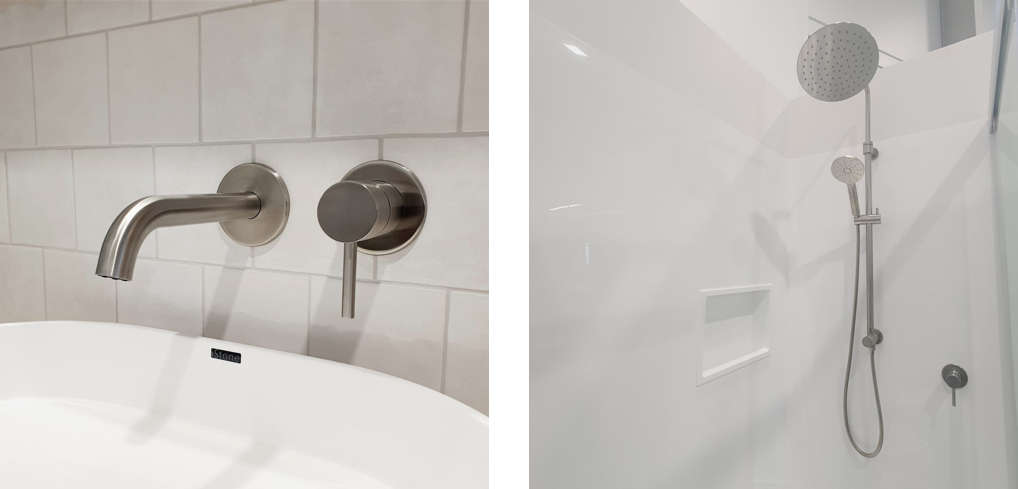 Waterware have long offered quality tapware, so it was a no-brainer for us to feature them heavily in our new showroom bathroom display. Simple and inviting was the design brief for this layout. We at Bay Bathroom Design & Build immediately thought of Waterware brushed stainless tapware.
Urban tapware by Waterware features stick handles, and slim pipe style as any modern bathroom renovation should have for that up-to-date look. Waterware's Urban Wall Mounted Basin Mixer with Short Spout, was the choice to go above our gloss white iStone Oval Vessel Basin.
The Urban Shower Tower with 3 Function Handshower gives you options here for a heaven-sent shower experience. A separate shower mixer (Urban Shower/Bath mixer with Lever) turns the water on to the shower tower, and then the built-in divertor gives you the option of having a shower with the adjustable rainhead, or the 3 function handpiece attached to the shower hose. Literally four different waterflow ways, a pick and mix hot shower at the end of a long day can be bliss if you want it to be!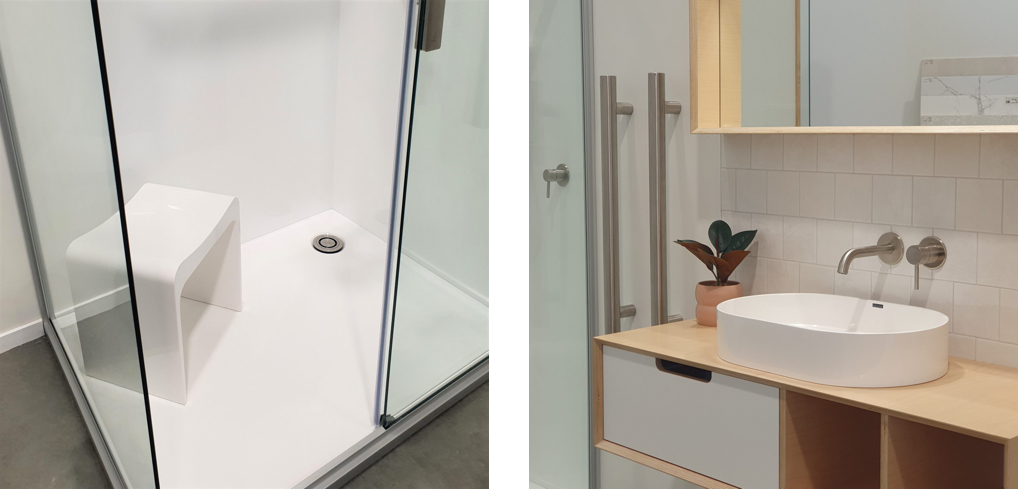 The Urban tapware fittings have been matched with Waterware's  Vertical Towel Rails. Vertical heated towel bars are state-of-the-art and the latest way to store and heat your towels in the bathroom. The aesthetic layout on the wall, especially when matched in a pair, changes the way the space is seen and used. They are also efficient in the way they heat and dry towels, given the increased coverage against the fabric. This would be one of our recommendations for any new bathroom renovation.
Lighting is sometimes the last fitting to be selected when planning a renovation, but it's important that this ties in with the look of your new bathroom and all the bathroomware you have chosen so far. Waterware have featured in the light fitting above the picture frame mirror in this setup. The Stark LED 600mm Extendable Mirror Wall Light in brushed nickel finish matches closely to the brushed stainless tapware and vertical towel rails. This finishes off our feature tiled wall nicely. These lights can be used above mirror cabinets and picture frame mirrors like this because they have the extended reach to get that light out over the mirror.
You will notice we have a Waterware iStone Shower Stool in brilliant gloss white featured in the Atlantis shower in our display. These great little seats offer the practical use of support within the shower. They are nice and solid, so they reliably support you. You have the ability to pop it away when not in use. High market looks in the gloss white stone resin keeps your bathroom looking modern. With a weight limit of 150kg, you are off and away for a good looking shower support.
Brushed stainless tapware and accessories are hard wearing. They offer an upgraded and elevated look from standard Chrome. It can be hard to predict which colours will come in and out with design trends, but at Bay Bathroom Design & Build, we feel that brushed stainless fittings have longevity in style, lasting and looking great for years to come.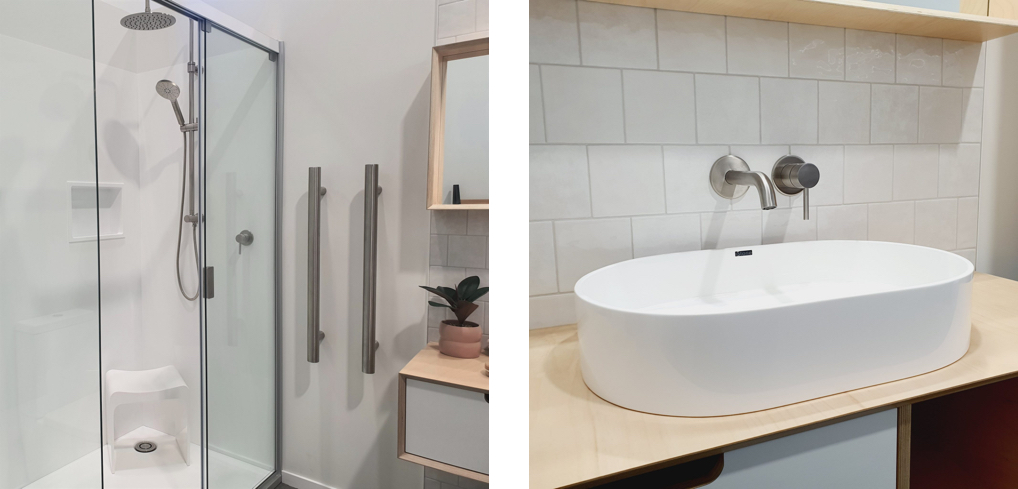 Permission received to repost.